The Peoples' Portrait actively investigates the aesthetics of portraiture in the context of speed and scale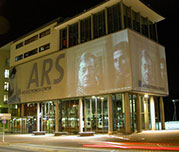 People's Portrait
Zhang Ga
Zhang Ga
Rundle Mall at King William Street
with additional viewing screens in The Advertiser Foyer
31 Waymouth Street
3-19 March
FREE
http://people.apiece.net/web/pp.html
The Peoples' Portrait utilises the Internet as the underlying mechanism to create a global portrait of people, rendered in real time and displayed instantaneously on the web and largescale video wall. The artist Zhang Ga will travel to Adelaide to set up a custom designed kiosk, which will consist of a camera that allows passers-by to take snapshots; these snapshots will then be transmitted via Internet to an image database on a central server. Every few seconds, the video wall, located in a highly visible public space, will retrieve from the same server the peoples' portraits and display them first in time stamped order, then randomly from the archive.
The Peoples' Portrait actively investigates the aesthetics of portraiture in the context of speed and scale: the artist utilises network and communication infrastructure as the underlying mechanism of the image making process to create a collective and instantaneous portrait at a global scale with unprecedented effect, which is otherwise unachievable, and therefore opens up a new discourse for the art of portraiture and challenges visual perception at large.
Zhang Ga is an artist and director of the Net art Initiative, a loosely knit, open source-based, hub-styled, forum-oriented, action-enabled consortium. In 2004, he was the Artistic Director of the First Beijing International New Media Arts Exhibition and Symposium, a two-year-long project he initiated and co-organized with Prof. Lu Xiaobo, Vice Dean of the Academy of Arts and Design, Tsinghua University.
Presenting partner Harris Scarfe.