An exhibition of art made for mobile phones.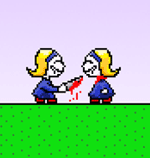 Kill Yourself Game
Rebecca Cannon
and Karen Jenkins
State Library of SA,
Treasures Wall
Official Launch 12 March, 3pm - 5pm
10-19 March,
Mon-Wed 10am - 8pm
Thu-Fri 10am-5pm
Weekends 10am-5pm
FREE
These portable artworks are created by eight of Australia's best known and emerging artists to both inspire you and challenge the way you think about and use your phone. Including lively animations of 'possessed media' where the mobile phone has a life of its own; humorous encounters with sock puppets; an exploration breaking up due to mobile phone miscommunications; a game to play only when extremely bored; a mesmering roller coaster ride of 3d abstraction and music; and gentle and revealing narratives of place and events in our collective memory.
During the exhibition the videos, games and wallpapers will be available for free distribution to your private devices such as mp3 players, PDAs and mobile phones, via an Aura Hypertag Billboard.
You can take mobile art home by Mobile Journeys' artists: Ian Andrews, Rebecca Cannon and Karen Jenkins, Chris Fullham, Tina Gonsalves, Ian Haig, Shane Ingram, Megan Heyward and Mark Simpson with you from the Library. Bring your mobile, forget your wallet!
Mobile Journeys exhibition is generously assisted by AURA DIGITAL, MOTOROLA, THE STATE LIBRARY OF SOUTH AUSTRALIA and PARISH HILL WINES.
Mobile Journeys is a national arts initiative exploring the creative potential of mobile devices and fostering the development of Australian mobile culture. It has been developed by a consortium of partners: dLux MEDIA ARTS, AIMIA and ANAT.
partners