Carsten Nicolai has earned a reputation as a highly innovative and experimental practitioner who works across installation, sound and performance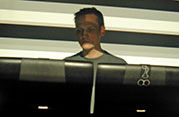 Transform
alvo noto audio visuals live
Photo: Anna Van Kooij 2003
Carsten Nicolai (Germany)
Wednesday March 8, 8.30pm Elder Hall. Free admission.
http://www.alvanoto.com/
alva noto is the pseudonym of German audio-visual artist Carsten Nicolai. Born in the East German city of Karl-Marx-Stadt in 1965, Nicolai first studied architecture and landscape design before pursuing an interest in the theoretical properties of sound and space. Resettling in Berlin in the early '90s, Nicolai founded the experimental music label Noton.Archiv Fuer Ton Und Nichtton as a platform for his conceptual and experimental musical concerns. Carsten Nicolai has earned a reputation as a highly innovative and experimental practitioner who works across installation, sound and performance. He is in high demand and his work has been seen across Europe as well as in the United States and Japan.